Expand/contract all
Who was St. Pius V?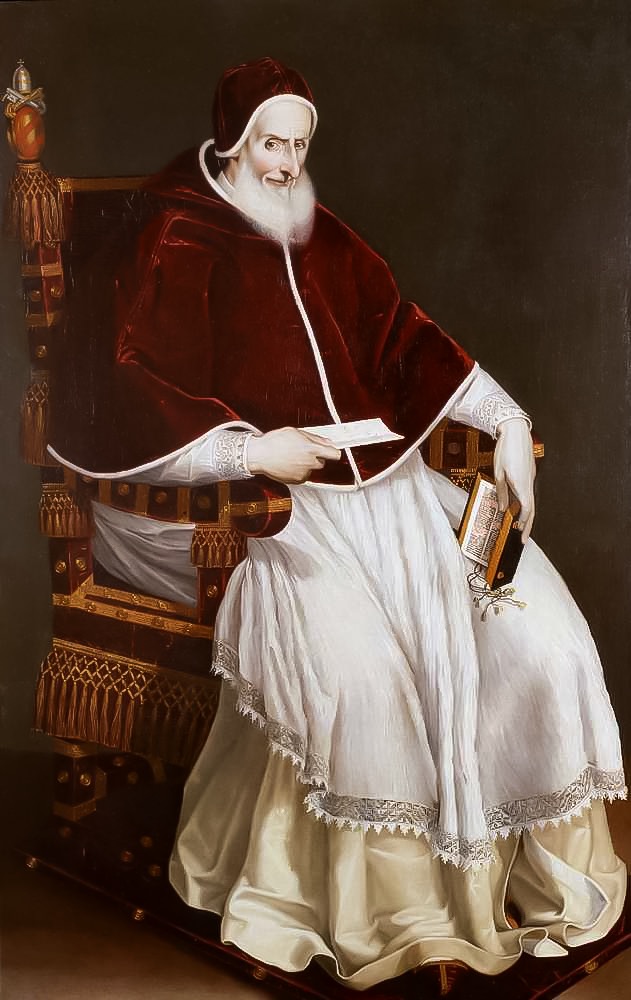 Pope St. Pius V is our patron Saint and hero. A humble shepherd boy raised by the grace of God to papal dignity, he was a man of great intelligence, indomitable will, and adamant virtue. He was a ruler, reformer, and leader like no other. He gave the Church the Roman liturgy, the breviary, the second-most recent catechism, and the tradition of the Pope wearing white (he kept his habit!). Of course, he is most famous for the battle of Lepanto. He sent a mere 20,000 Christians against the vast (and undefeated) Turkish fleet, and every man in the Pope's fleet had received the Sacraments, and all were saying the Rosary. Their miraculous triumph carved an enduring place in history and established a new invocation in Our Lady's litany: Mary, Help of Christians.
Our Chapter's Beginnings
So, what does this say about our chapter, formed under the protection of this mighty saint? Are our names synonymous with great intelligence, indomitable will, and adamant virtue? Well, maybe not exactly synonymous! We're more like the handful of Christian sailors St. Pius sent against the invincible Turks. We've got the Sacraments, the Rosary, the Order, and our mighty patron sending us out against the Culture of Death. But we didn't always have such a strong sense of mission.
Our group was founded in 1993, the year the Catechism of the Catholic Church was first released. Excitement was high for the Catechism, so when members of St. Martin de Porres chapter in downtown Baltimore decided to form a satellite group in the suburb of Catonsville, what would be more natural than to name ourselves after the Dominican responsible for the first catechism?
Energy and enthusiasm flourished, and the group, meeting at a high school outside Baltimore (run by the Dominican Sisters of St. Cecelia Congregation of Nashville), grew in leaps in bounds. Starting with only four members, the pro-chapter expanded to include over a dozen postulants and novices within less than a year; in fact, with visitors and guests, some early meetings saw more than 30 people attending! And the news that one of these young members was leaving to go to the First Order only added to our exuberance.
Perhaps we grew too fast. Maybe the aspirants didn't get a proper explanation of what the Dominican Order was. Or possibly their formation just didn't shape the pillar of community well enough. Whatever the case, Dominican meetings soon became an opportunity for arguments about roles, authority, identity, and even the purpose of belonging to the Third Order and the pro-chapter. The membership of our pro-chapter imploded at a frightening rate, and by the summer of 1996, only three members were still attending, none of whom had made perpetual profession, and at least one not at all sure that he should.
Bob Dufour
And at this point, we must introduce Bob Dufour. Bob, one of the stalwart three who remained as these trials continued (and the only one whose history traced back to the St. Martin de Porres chapter), happened to wear a black-and-white cross pin to a seminar on leading RCIA. When two acquaintances asked what the cross meant, he described the Dominicans with such love and devotion that he added two more members to the chapter.
Bob was, although not yet perpetually professed, the leader of the pro-chapter at this point, and he also took on the role of postulant and novice master. He taught the postulants and novices not only how to say and pray the Divine Office (Liturgy of the Hours), but how to love it. Even at general meetings, questions would come up about the Psalter, the Commons, the Ordinary, or the Propers, and it was always Bob who patiently led us through the proper pages. He always led the songs, too, for he was gifted with a beautiful and powerful singing voice that had a uniquely pleasing timbre. During the time of the new members' formation, he finally made his perpetual profession, as did two other men.
The five of us struggled to find a group apostolate. For a number of years, we seemed too small to even have one. So we met and prayed and studied, living out our Dominican charisms in individual apostolates. Some worked against euthanasia, others defended life in the womb; some of us proclaimed the Word as lectors, others proclaimed the truth as RCIA teachers; some wrote and others gave talks; but we hungered for a community apostolate. None was forthcoming. The closest we could get was a unified effort at recruitment; even so, over the next five years, we only attracted one new vocation.
Eventually, the two members Bob had attracted made their perpetual professions. Then, at the next meeting, Bob suddenly announced that since we now had four members eligible to hold elected office (besides himself), he was stepping down as moderator after seven years of service. An election was held two months later, and all at once, Paul Boben was our prior, and Bob was just a professed member with no extra responsibilities. (Although he soon took on extra responsibilities at the Regional and Provincial levels, once they realized he was available!)
Bob had spent enormous energy on recruitment: he had helped develop pamphlets to leave at parishes, he had visited RCIA meetings at other parishes to teach about Third Orders, he had introduced a website, and he had personally encouraged fellow loyal Catholics to consider Dominican life. But his biggest effort was yet to come.
Finding Our Apostolate
Paul's tenure began in a spirit-filled way that bore much fruit. In his first several months, he met with all of the members of the chapter individually, getting their sense of where the pro-chapter had been, where it was headed, and their "vision" for its future. Following these individual meetings, we scheduled a "Day of Recollection." Instead of a mini-retreat led by a priest, this was a day started with a Mass, followed by hours of discussion and hard work on the topics that had been discussed individually. During the meeting, we developed our first group apostolate, a monthly letter-writing campaign in which we supported the truth of the Church's teaching.
Other important reforms came from the meeting as well; specifically, formalizing our procedures for handling visitors, and re-invigorating our recruitment efforts with new fliers. Additionally, we approved a virtually all-new formation program, one that focuses on spiritual classics, Church documents, and published writings by Dominican writers.
Unfortunately, Bob was unable to attend this meeting. One month before the Day of Recollection, Bob was diagnosed with esophageal cancer, and he started chemotherapy and radiation treatments within a week of his diagnosis. This was his big effort, his sacrifice: he offered up his suffering for many intentions, but one key intention was the growth of the pro-chapter.
Sadly, Bob passed away in the summer of 2003, on the Feast of Sts. Peter and Paul. He was buried in a white Dominican habit, as is the privilege of Lay Dominicans. He has now joined Mary, Help of Christians, as our intercessor. He is a reminder that the primary mission of our Third Order is the salvation of our own souls. Bob was a virtual storehouse of information in life, equally at ease discussing Scripture, the life of St. Dominic, or fine points of dogma. Now, he lives on literally in heaven, but he lives on with us figuratively as well: he was the novice master for three of our members; he contributed heavily to the pro-chapter's new formation program; and his beautiful singing voice echoes still in the minds of his brothers and sisters in St. Dominic.
Rebirthing our Mother Chapter
Soon after his passing, Wendy Pavlat was elected the new president. One of the first things we did was establish a new chapter apostolate: we started sponsoring public talks by Dominican friars on matters of current interest. Spiritual issues like the meaning of suffering; cultural issues like gay marriage; philosophical issues like the definition of truth were expounded upon by friars far and near. Some of their talks had upwards of 60 people present! Several recordings are present on this very website.
On December 1, 2012, through the intercession of St. Dominic and Bob Dufour, we were notified we would be elevated from pro-chapter to full chapter, pending some approvals. With continued prayers, and after overcoming a few hurdles, we became a full chapter in March of 2016.
Another feature of W Pavlat's tenure was a surge of vocations from the Reisterstown/Emmetsburg area. It was an amazing sight to see so many people from more than half an hour away coming to our meetings in Catonsville! When the chapter passed the baton of moderator to her husband, Eric Pavlat, he had an idea. He had long been frustrated at the number of phone calls from that Emmittsburg that did not lead to a visit, and he talked to the new recruits about the possibility of their founding a chapter closer to home. It took several years for enough of them to make their life promises to found a new affiliate chapter, but found it they did, by which time enough time had passed that new moderator Eric Curiel was in charge of our chapter. At Pavlat's suggestion, they took the name St. Martin de Porres, the name of St. Pius V's mother chapter! They even got to keep the administrative number "501" (Region Five, Chapter 1) that had first been assigned to it.
More time passed, and the affiliate chapter grew, until finally, with the chapter's presidency back in Wendy's hands, St. Martin de Porres was elevated (again!) to full chapter status. Meanwhile, St. Pius V found itself with a surprising offer: based on our experience organizing the talks, we were invited to take over the regional retreat, which the chapter Mary, Seat of Wisdom had been doing for the last several years. We said yes, and for three years from 2017-2019 we ran the regional retreat under the returning leadership of Wendy Pavlat. Under Wendy's guidance, we added many well-received innovations to the retreat, from printing schedules directly on attendees' name badges to recording the retreats for those who could not be present. One retreat was led by former Pius V member Fr. John Paul Walker, O.P., whose existence was briefly alluded to above, and another was led by the friar who would later become our Provincial Promoter, Fr. Carlos Quijano, O.P.
Based on the affiliate chapter and our taking over the retreat, the Region gave St. Pius V another surprising honor: it elected our president, Eric Curiel, as its vice president, and our vice president, Eric Pavlat, as regional treasurer. Both served for a full term of three years, and they stressed that they were not to be viewed as "Eric squared" but as "Eric cool."
Our Chapter Today
As for the rest of us, we have continued our annual Day of Recollection, expanded our web site several times, and administrated several sets of elections, with Camie Twyford as moderator.
We trained another chapter to take over the regional retreat, and we are looking at re-establishing our lecture series. We are now sponsoring another group of Lay Domincians who wants to form an affiliate chapter, and Twyford also serves the Regional Council as an alternate delegate. We have twelve promised members (not counting the five who will soon spin off into the affiliate), a novice, and a postulant, and once we're through with the "distance meeting" requirements of Covid-19, we'll be looking for more members.
We continue to pray and grow spiritually as well as have an active role in our community.
Pius V is our patron, our inspiration, and one of our primary intercessors, along with Mary, St. Dominic, St. Catherine of Siena, and God's faithful servant Bob. May we all join them one day. Amen.

Contract
"The end of the Third Order is the sanctification of its own members by the practice of a more perfect Christian life and the promotion of the salvation of souls in a way that is suitable to the state of the faithful living in the world."
—The Rule of the Lay Chapters of St. Dominic
Study
Dominicans, it has been said, can be found in two places: churches and bookstores. Dominicans study to increase their love of God and neighbor and to share the truth with greater effectiveness. Postulants, novices, and professed Dominicans follow separate courses of formation, but they also meet in a larger group to discuss common study topics. Members also study Scripture on a regular basis.
Community
To grow spiritually, it's useful to have the support of a group of Christians whom you know to be well-founded in the truth and well-formed in spirituality. Community is what gets you through the rough spots in the life of faith. Members support one another by praising God together, discussing study topics, sharing spiritual insights, encouraging one another in the Christian virtues and Dominican charisms, and praying for each other. Members of our chapter attend one formation meeting and one general meeting per month.
Prayer
This pillar is divided into two kinds, public and private. The greatest of public prayers is, of course, the Mass, and Lay Dominicans are encouraged to attend daily Mass when possible. In addition, Dominicans participate in the Liturgy of the Hours (the Divine Office, as in Morning or Evening Prayer). All members receive training in the practice and spirituality of the Liturgy of the Hours.
Chief among the devotions of private prayer is the Rosary, which St. Dominic promoted over 700 years ago. Dominicans should recite and meditate on the Rosary every day. Dominicans are also encouraged to "pray the Scriptures" using a method called Lectio Divina. Finally, Dominicans are called to contemplative prayer, a special charism of our order. The importance of personal prayer is stressed in an annual retreat. Additionally, professed members of our chapter fast every Tuesday for an intention announced by our region.
Apostolate
All of the other pillars support our apostolate. This charism is at the very heart of the Dominican order, as can be seen by its name, the Order of Preachers. Apostolate is an act of love for God and zeal for souls. In our preaching, we "share with others the fruit of our contemplation," according to St. Thomas Aquinas. Our primary vocation is bringing the Gospel truth into the marketplace, whether through pro-life action, religious education, writing, or simply living a life of exemplary holiness. (Apostolate differs, therefore, from ministry, which is directed at those who are already believers.) More formally, our chapter's apostolate consists of professed members writing one letter per month to an elected official, political organization, or media outlet to support the Church and her teaching. We also fast/abstain on Tuesdays, support a Bible study/sharing program called the Siena Cyber-Circle, sponsor a free lecture series, and maintain this website.

Contract